Discover more from The Mighty Bruin
Blog Of The Bruins, By The Bruins, For The Bruins
Over 1,000 subscribers
2020 UCLA Football Season Preview: It's a Whole New World at Linebacker
The Bruins are seeing a ton of turnover in the middle of the defense, which means plenty of opportunities for guys to step up.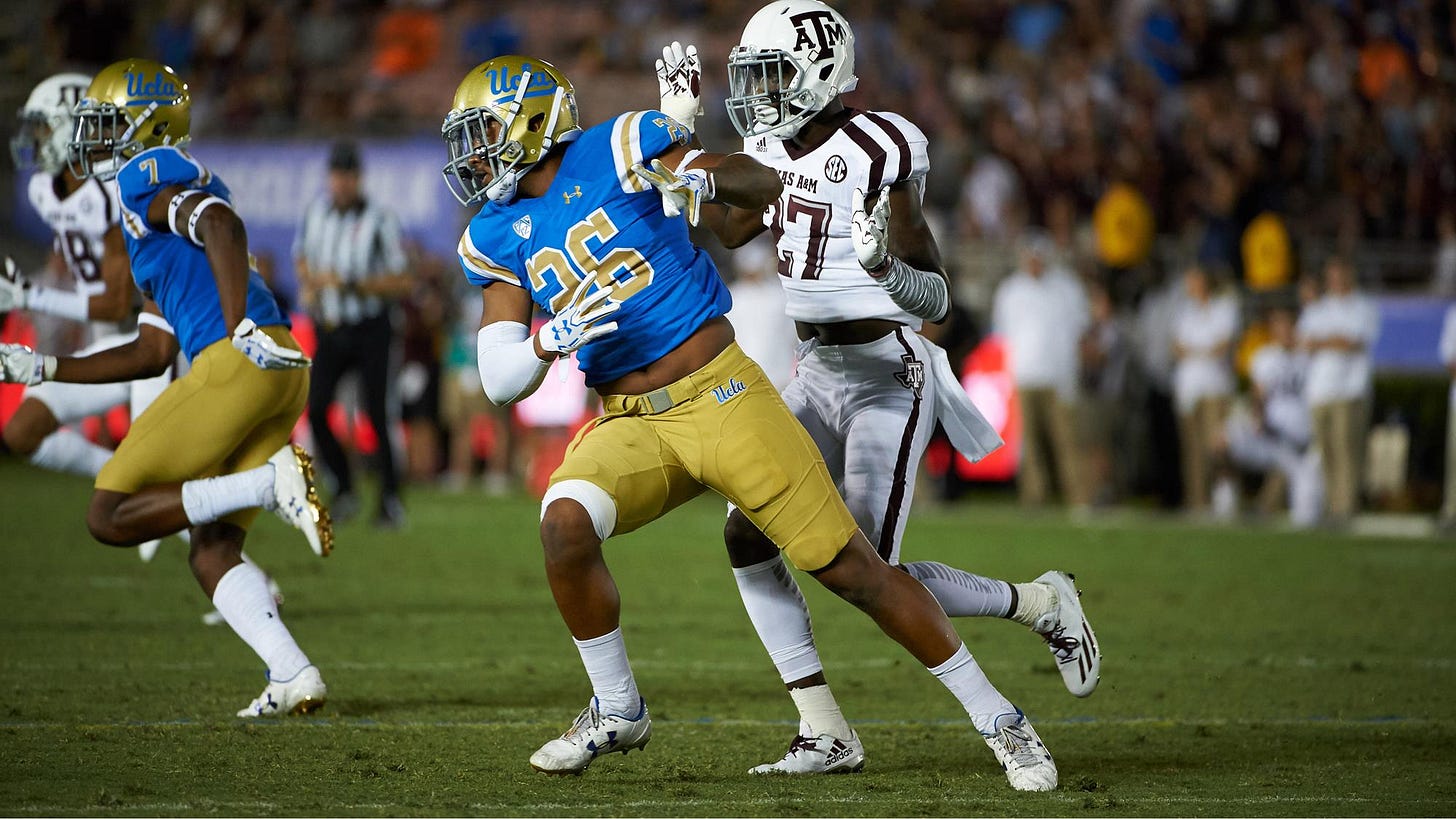 Leni Toailoa is the only senior linebacker UCLA will have on the roster this year. (Photo Credit: Don Liebig/

uclabruins.com

)
---
Editor's note: With the Pac-12 season nearly upon us, we are firing up our positional previews again. Some of them ran prior to the postponement in August, and are being rerun now as a refresher with some edits.
We're continuing our UCLA Football Fall Preview Series today by taking a look at the linebackers. There's more turnover here than almost any other position on the roster, so let's get into it.
Who's Gone
Umm….pretty much everyone.
That's a bit of hyperbole, but UCLA really did see most of their two-deep depart after last season. Multi-year starters Krys Barnes, Keisean Lucier-South, and Josh Woods all graduated, as did longtime rotation piece and starter from last year Lokeni Toalioa. Je'Vari Anderson and Tyree Thompson both left the program after graduating and are at Eastern Kentucky and Buffalo respectively. Jason Harris provided solid depth in his one year as a grad transfer, but he's gone now as well.
That is a huge loss of talent and experience for UCLA. Barnes in particular feels like a rough loss for the Bruins to weather just due to his growth into a productive and reliable player in the middle of the defense.
Who's Back
UCLA doesn't lose all of their returning production, thankfully. Carl Jones had an impressive true freshman year, and is too talented not to start somewhere on the field, either at linebacker or in nickel formations. Leni Toailoa showed real growth last year, and should have the inside track at starting as well. Finally, Bo Calvert saw the field a bit near the end of last season after serving a suspension, and should be in line to see significant playing time this season.
My sleeper pick for someone who will make an impact this year is John Ward. Ward is a redshirt freshman, but was impressive as a recruit and has the benefit of a year in the system under his belt. I could see the turnover in the position group creating a situation where Ward can step up and grab a spot fairly quickly.
Who's New
Pretty much everyone else.
No, seriously. UCLA is looking at around 13 members of their depth chart who have yet to see the field in a Bruin uniform before, representing a mix of true freshmen, redshirt freshmen, and graduate transfers. That is a ridiculous number, indicative in part of how badly the coaching staff botched linebacker recruiting in the previous few cycles.
The good news is there is some talent here that should challenge for playing time right away. The jewel of the defensive recruiting class, 4-star OLB Damian Sellers, projects into that DE/OLB hybrid spot that Lucier-South occupied the last few years, as does fellow recruit Myles Jackson. Caleb Johnson is a JC-transfer who should at the very least provide playable depth right away, which is especially-helpful this season. Jonathan Vaughns, the 4-star prospect from St. John Bosco, is too talented not to see the field right away as well, and probably has the best chance of making an immediate impact in 2020. Vaughns played defensive back in high school, but the uncertainty of the linebacker position might result in a position switch.
I also have to mention graduate transfer Qwuantrezz Knight here, as the former Kent State defensive back has been mostly playing at the Star linebacker spot, getting some time with Carl Jones.
Projected Depth Chart

I went pretty chalk with this initial depth chart. I think Toailoa, Calvert, and Jones should compromise three of the initial starters just due to their seniority and experience, and the depth chart under them in the Will, Mike, and Star linebacker slots reflects experience more than anything else. I would not be surprised if, for example, Vaughns moved up by the end of training camp or even switched spots.
That OLB/DE hybrid spot is….interesting. I gave the nod to Jackson based on various practice interviews and reports, but nobody in that group has any experience at the D1 level. That includes Agude, who is a junior college transfer expected to provide meaningful snaps from the jump. If UCLA can get meaningful production from this position, it will go a long way towards a successful season.
Go Bruins!