2020 UCLA Football Season Preview: Bruins Look to Replace Kickers and Long Snapper
Last year was a rebuilding year for the UCLA Special Teams. This year will be, too, because three special teams starters will need to be replaced.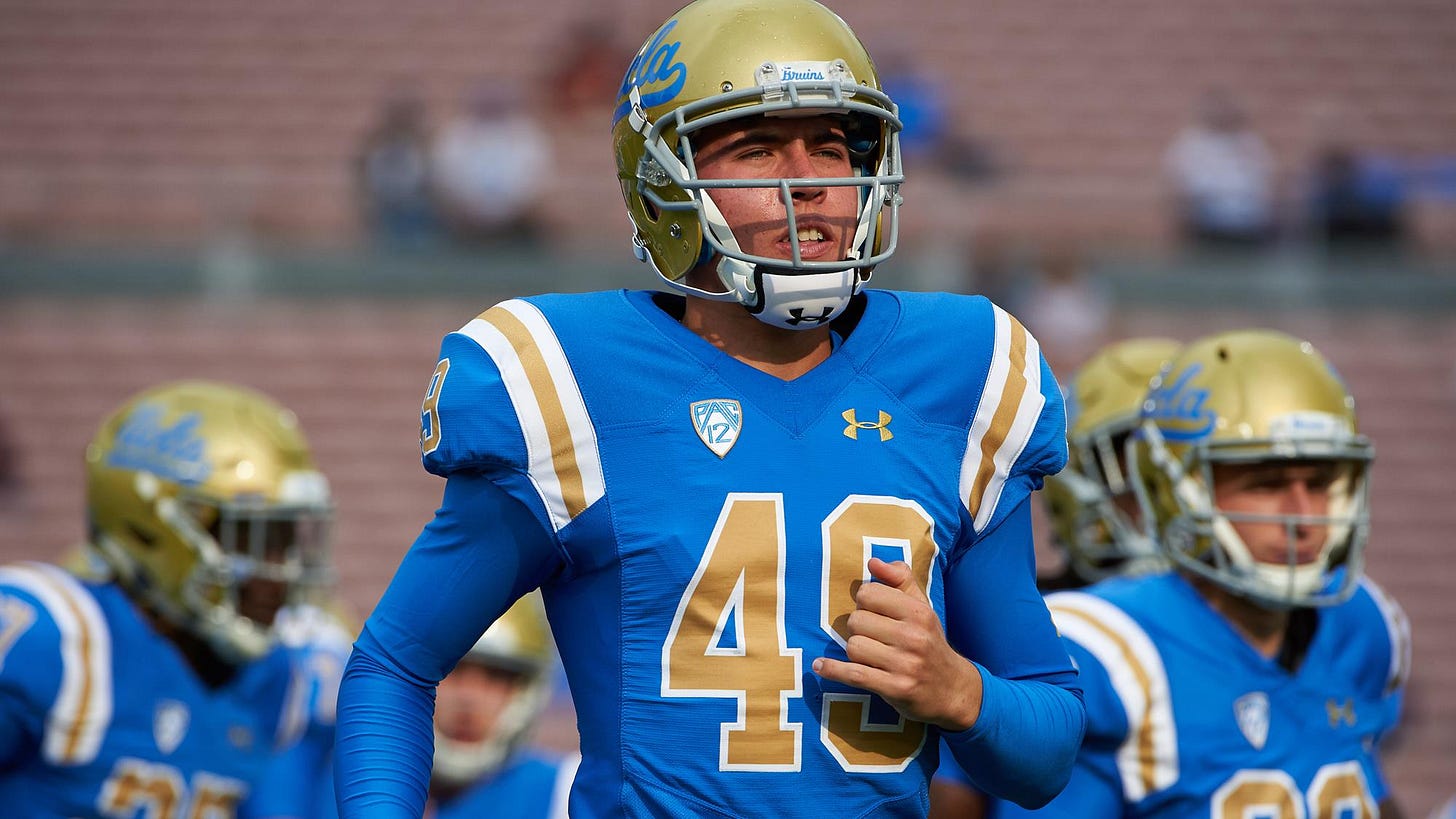 Collin Flintoft was in line to be the starting punter this year, but will instead miss the year after surgery. (Photo Credit: UCLA Athletics/

uclabruins.com

)
---
Editor's note: With the Pac-12 season nearly upon us, we are firing up our positional previews again. Some of them ran prior to the postponement in August, and are being rerun now as a refresher with some edits.
We're continuing our UCLA Football preview today with a look at the Bruins' special teams.
Last year, I wrote that UCLA would be looking to rebuild the special teams unit after a terrible 2018. In 2019, the special teams were certainly improved over 2018, but they still left a lot to be desired. I don't know if it was the change in holders from Matt Lynch to Austin Burton or not, but JJ Molson struggled and only made 57% of his attempts last season.
Who's Gone
JJ Molson has graduated as has long snapper Johnny Den Bleyker. Meanwhile, Wade Lees, who was a graduate transfer last season, has used up his eligibility.
Additionally, while he didn't return many kickoffs last season, Darnay Holmes has moved on the NFL after being drafted by the New York Football Giants.
In addition to those three, punter Carson Olivas announced in January that he will no longer play football.
Who's New
The big special teams addition to the team this year will be kicker Luke Akers. Akers is the son of David Akers, who was a six-time NFL All-Pro with the Eagles and 49ers. Akers' arrival in Westwood may be big enough to help the freshman become UCLA's new starting placekicker.
Who's Back
With Wade Lees and Carson Olivas no longer on the team, the punting job looks to be wide open. Collin Flintoft, who looked to be on track to win the punting job, underwent surgery during the postponement and will not be available this season. Nicolas Barr-Mira should be lined up with the punter's job going forward, and looks to be competing with Akers for kickoff duties at the moment..
Redshirt freshman Jack Landherr IV is going to slot in to the longsnapper spot, replacing Johnny Den Bleyker.
Expect Kyle Philips and Demetric Felton to be the teams primary punt and kickoff returners, respectively, while Kazmeir Allen and incoming freshman Logan Loya may also end up returning some kicks.
Let's look at the projected 2020 Special Teams depth chart.
2020 UCLA Football Projected Special Teams Depth Chart

That wraps up our look at the Special Teams as the Bruins head into Fall Camp. Stay tuned as we continue our 2020 UCLA Football Fall Preview.


Go Bruins!!!
---
Thanks again for supporting The Mighty Bruin. Your paid subscriptions make this site possible. Questions, comments, story ideas, angry missives and more can be sent to  to @TheMightyBruin on Twitter.