2020 UCLA Football Season Preview: Experience Leads the Way at Defensive Back
The Bruins return a host of starting experience at every position despite losing Darnay Holmes to the draft.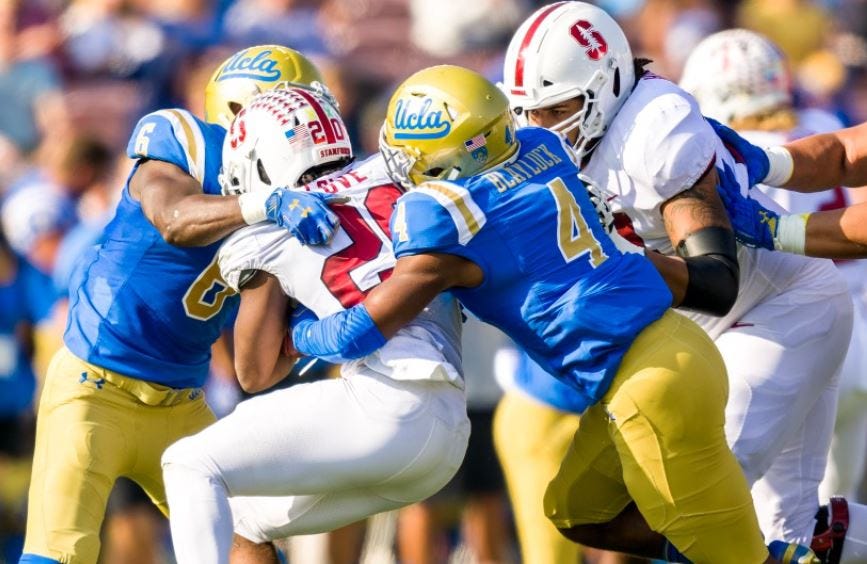 The Bruins would love for Stephan Blaylock to have a bounceback season. (Photo credit: Scott Chandler/
uclabruins.com
)
---
We continue our season positional rundown today with the defensive backs. This is also the first bit of new content in the series (though the previous entries were edited with new info) so that's exciting on my end.
Let's dive in.
Who's Gone
The biggest loss for the Bruins from last year is Darnay Holmes, who is now playing for the New York Football Giants. Holmes was a starter at cornerback from the moment he stepped foot on campus, and it will be tough to discount his loss this season, though the Bruins do seem well-equipped to handle the change.
I will also mention that Kenny Churchwell will also not be with the team this year, but this is because he has opted out for COVID-19 reasons. There is nothing wrong with this, and I completely support his decision.
Who's Back
The biggest return did not play much for the Bruins last year, as they welcome back Quentin Lake from a season-long injury. Lake was perhaps the best UCLA defensive back during his redshirt freshman year, and while he is now a redshirt junior, you can consider this a redshirt sophomore season since everyone gained a year of eligibility. Lake's return is huge for the Bruins as it stabilizes the secondary going forward.
The Bruins return a host of other players with experience. Stephen Blaylock, who was forced to carry more of the safety load once Lake went out, returns to provide UCLA with one of the better safety combinations in the conference. Rayshad Williams, who locked down the corner spot opposite Holmes last year, will be stepping into a larger role as the team's top cornerback, while Jay Shaw should have an opportunity to compete for the corner slot opposite him after sharing time at the nickel last season.
The returning depth is also solid. Elisha Guidry ended up starting nine games last year after Lake went down, and he can step into one of the safety spots in a pinch. Patrick Jolly also saw action in 10 games last season, so he provides solid depth if needed.
The biggest question sits with Elijah Gates. Gates took a huge step back last year after an impressive redshirt freshman season, and as of right now does not seem to be high on the depth chart. Gates possesses some of the best pure talent in the position group, so if the coaching staff can get him sorted and back to being a positive contributer, that would be a major positive.
Who's New
The biggest addition to the UCLA depth chart is grad transfer Obi Edoh from Stanford. Edoh is a fantastic player who can and is pushing for the starting cornerback slot opposite Williams. My guess is Edoh will see the field a ton this year.
The Bruins also brought in a talented group of recruits. Johnathan Vaughns and Jake Newman are both safety prospects who are getting some looks at the STAR linebacker spot, similar to grad transfer Qwuantrezz Knight. John Humphrey is the name to watch from this group - the John Muir (Pasadena) High product has done well according to practice reports and physically looks ready to compete now, so it would not be surprising to see him contribute this year.
Projected Depth Chart

As of right now, this depth chart feels the closest to the current reality. Lake and Williams are locked into two of the four spots, while Blaylock seems to be for the other safety spot just due to incumbency. Shaw, similarly, has a general lead on the cornerback battle, but at this point Obi Edoh is getting enough run with the 1s in practice that I'm going to label it as an OR situation for the moment.
Safety depth looks a bit questionable for the moment, but there are two other incoming freshman in Vaughns and Newman who could shift back from the STAR linebacker slot if needed. Edoh, too, has mentioned that he has been doing cross-positional training in case of depth issues, so the Bruins should be fine to start.
Go Bruins!