2020 UCLA Football Season Preview: Did Chip Make Enough Changes to the Coaching Staff?
This year's coaching changes came on the defensive side of the ball, but did Chip Kelly make enough changes to improve the Bruins in 2020?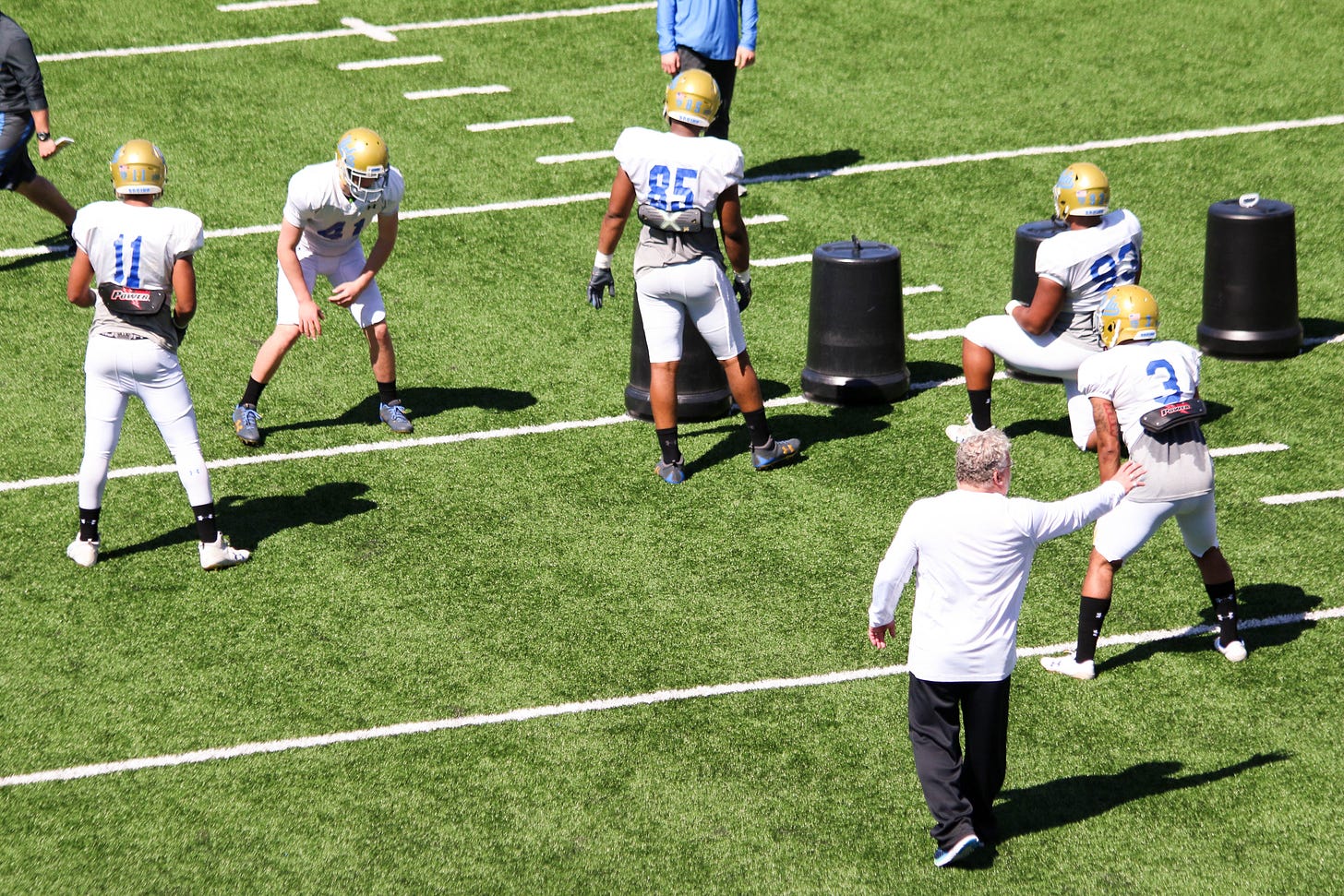 UCLA Defensive Coordinator Jerry Azzinaro returns in 2020 despite having one of the worst defenses in the country. (Photo Credit: Joe Piechowski)
---
Editor's note: With the Pac-12 season nearly upon us, we are firing up our positional previews again. Some of them ran prior to the postponement in August, and are being rerun now as a refresher with some edits.
Most of Chip Kelly's coaching staff from last season is back, despite the fact that at least one coach shouldn't be. Let's first look at who won't be returning.
Who's Gone
There are just two coaches who won't be returning this season. They are Vincent Oghobaase and Paul Rhoades. Oghobaase coached the defensive line last season. Oghobaase left Westwood to become the defensive line coach at Boston College. Rhoades was Kelly's defensive backs coach the past two seasons. Rhoades left the Bruins to become the defensive coordinator at Arizona. For some reason, Arizona head coach Kevin Sumlin seems to like hiring coaches who didn't do a very good job while they were with the Bruins. Of course, that's because Sumlin previously hired Noel and Taylor Mazzone as well as Demetrice Martin.
Who's New
Of course, Chip Kelly needed to replace those two coaches and he did so first by hiring Brian Norwood as the team's assistant head coach/passing game coordinator/defensive backs coach to replace Rhoades. Then, he hired Johnny Nansen as the defensive line coach.
Norwood comes to the Bruins from Navy. Before heading back to Annapolis, Norwood was the co-defensive coordinator at Kansas State and he helped the Wildcats jump from last in the Big 12 in pass defense to fourth by reducing from 309.1 passing yards per game to just 245.8 passing yards per game, which was the fewest passing yards per game for K-State in five years.
Nansen, on the other hand, only has to travel to the Westside after spending the past six years coaching crosstown rival Southern Cal. Nansen has a track record of developing his players into some of the top players in Pac-12. When he coached running backs at Washington and Southern Cal, he helped Bishop Sankey, who had back-to-back top 20 finishes in rushing yards, and Ronald Jones, who finished 11th in the nation. Meanwhile, when he switched to coaching linebackers at Southern Cal, Cameron Smith finished 2018 15th in the nation in solo tackles. He's also known for his recruiting prowess. He was named the 2017 Pac-12 Recruiter of the Year by 247Sports. Hopefully, Nansen can work his magic with Osa Odighizuwa and the rest of the defensive line.
Who's Back
Other than those coaches, the rest of the staff from 2019 returns for Kelly's third season. Of course, many Bruin fans are not happy that Kelly didn't make additional changes after last season.
Specifically, fans are upset that Jerry Azzinaro remains on the staff as defensive coordinator.
Considering the overall performance of the defense last season, dumping Azzinaro seemed like a given, but that didn't happen. Instead, Azzinaro's contract was renewed for one more season.
In the end, Kelly's stubbornness with respect to Azzinaro may be tied to his fate in Westwood if the team doesn't show a significant improvement in 2020.
This is the complete coaching staff:
2020 UCLA Football Coaching Staff

Overall, the stability of the coaching staff on the offensive side of the ball should allow the offense to continue to make progress. Unfortunately, the defense will have a lot to prove with two new coaches and a defensive coordinator who starts the season on the hottest of hot seats.


Go Bruins!!!
---
Thanks again for supporting The Mighty Bruin. Your paid subscriptions make this site possible. Questions, comments, story ideas, angry missives and more can be sent to  to @TheMightyBruin on Twitter.