Discover more from The Mighty Bruin
Blog Of The Bruins, By The Bruins, For The Bruins
Over 1,000 subscribers
2020 MLB Draft: UCLA's Holden Powell Selected in 3rd Round by Washington
Three more Bruin commits were also picked.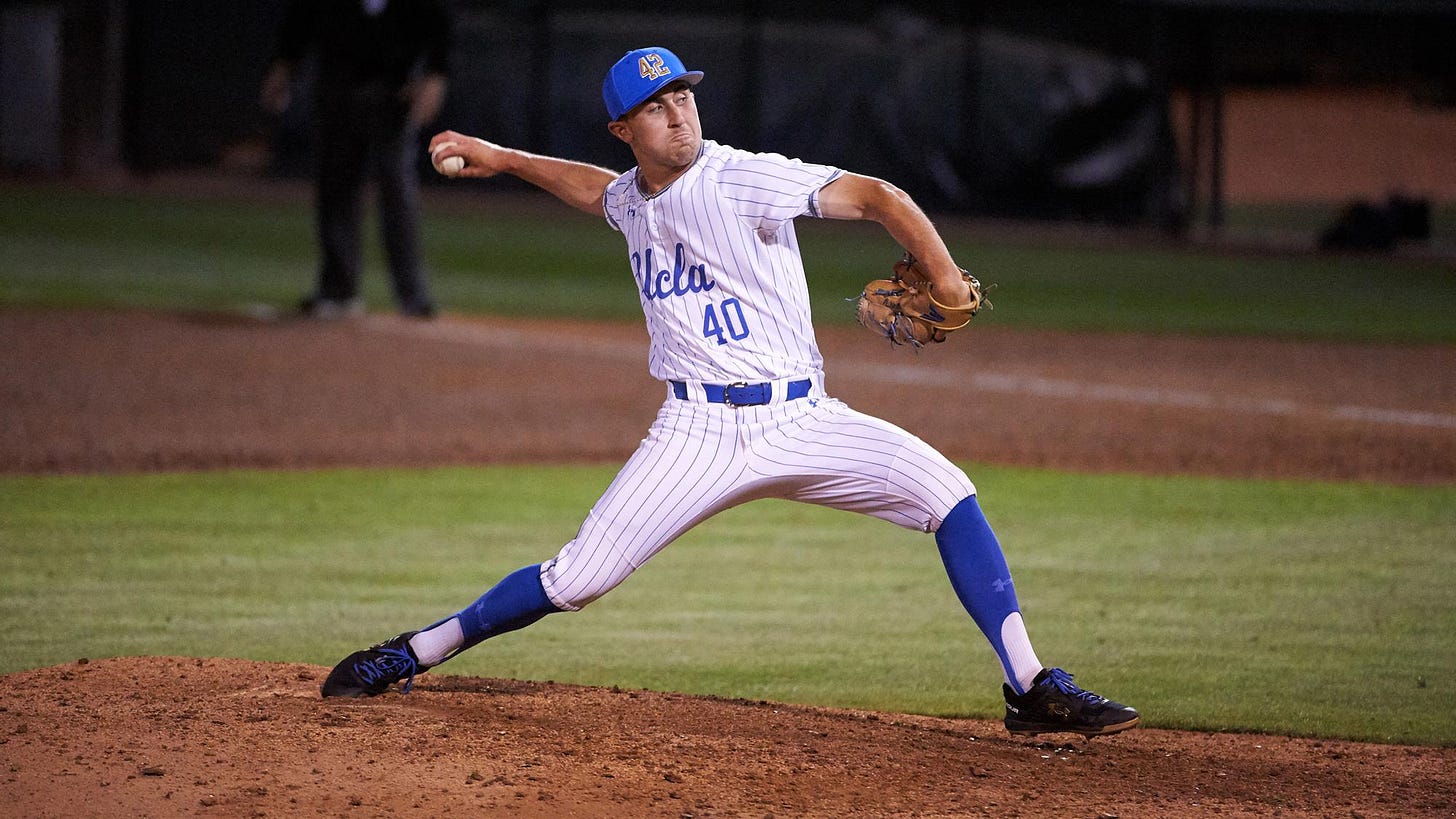 UCLA Closer Holden Powell was selected by the Washington Nationals in the third round of the MLB Draft yesterday. (Photo Credit:
Don Liebig/uclabruins.com
)
---
The 2020 MLB Draft wrapped up yesterday when rounds three, four and five were held and another Bruin was chosen by a major league team. UCLA closer Holden Powell was selected in the third round by the Washington Nationals.
That puts the junior in line for a $600K payday.
That may be low enough to convince Powell to return for next season, especially given the fact that the NCAA has granted spring sport student-athletes an extra year of eligibility.
In the COVID-19-shortened 2020 season, Powell did not give up a run in 9-1/3 innings pitched. He also recorded three saves and struck out 20 of the 35 batters he faced while allowing just three hits and walking two.
In 2019, Powell made 40 appearances and had a 1.84 ERA. He notched 17 saves while striking out 65 of the 199 batters he faced and only gave up 19 hits and 27 walks. Opposing batters had just a .121 batting average against Powell.
In other MLB Draft news, three more UCLA commits were selected on the draft's final day. Lefty Kyle Harrison was chosen nine spots ahead of Powell by the San Francisco Giants while the Dodgers selected outfielder Jake Vogel six spots after Powell. Milan Tolentino was the final Bruin commit was picked in this year's draft. He was selected in the fourth round by the Cleveland Indians.
Now that the draft is complete, the waiting game starts. Will any of the current or future Bruins choose to sign? Or will they be wearing the Four Letters next season? We'll have to wait and see.
In the meantime, congratulations to Holden and all of the UCLA commits who were selected.


Go Bruins!!!
---
Thanks again for supporting The Mighty Bruin. Your paid subscriptions make this site possible. Questions, comments, story ideas, angry missives and more can be sent to joe@themightybruin.com, or to @TheMightyBruin on Twitter.