2020 MLB Draft: UCLA OF Garrett Mitchell Picked 20th Overall by Milwaukee
Meanwhile, Bruin commit Tyler Soderstrom was chosen 26th overall by Oakland.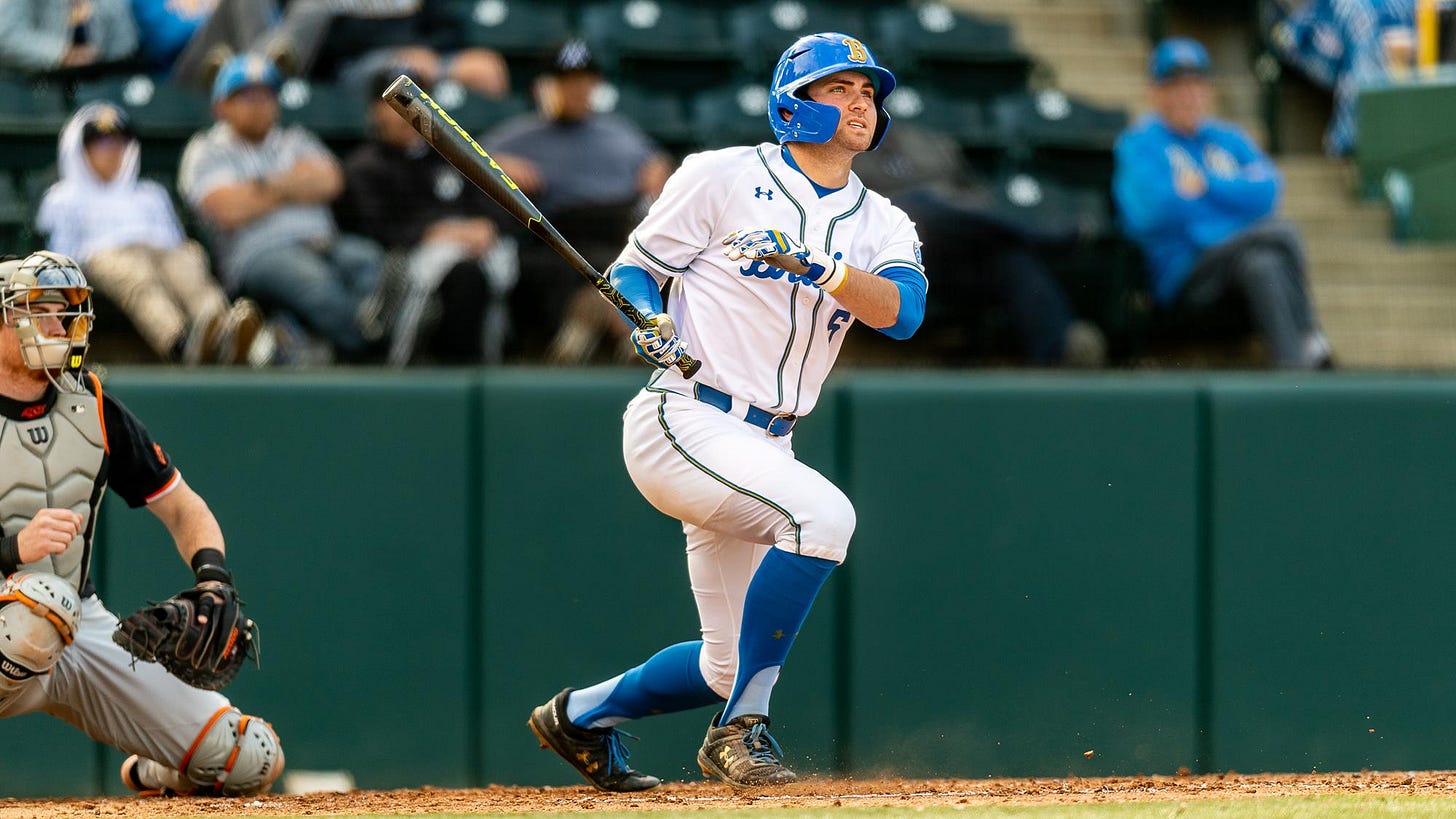 ---
The 2020 MLB Draft may have been scaled back from the usual 40 rounds to just five, but that didn't stop two UCLA Bruins from being selected on the first day of this year's draft.
The first Bruin selected, and the highest Bruin chosen since Chase Utley in 2000, was junior outfielders Garrett Mitchell. Mitchell was selected 20th overall by the Milwaukee Brewers.
Mitchell was batting .355 with a .424 on-base percentage and a .484 slugging percentage when UCLA's season was ended due to the COVID-19 pandemic after just 15 games.
By being selected 20th overall, Mitchell is looking at an approximate pay day of $3.24M, which gives Mitchell an interesting dilemma. With the NCAA giving spring sport student-athletes an extra year of eligibility, Mitchell could, theoretically, return to UCLA for as many as two more seasons in an attempt to raise his draft stock even further to earn a bigger payday. After all, Arizona State's Spencer Torlakson, who was drafted first yesterday is looking at an $8.4M payday.
But that's not without risk.
If Mitchell returned and either got hurt or had a bad season, it could cost him money. Personally, I would expect to see Mitchell sign with the Brewers.
The other Bruin who was selected yesterday was UCLA commit Tyler Soderstrom, a catcher from Turlock HS in Turlock, California. Soderstrom was chosen 26th which slots him for a $2.65M payday. It's slightly less likely that Soderstrom will sign if only because some players have been opting to go to college to get their education, or at least most of it, while building their draft stock even higher. MLB teams have countered this by including the cost a player would incur to go to college at some point in the future.
Rounds 2-5 of the 2020 MLB Draft will begin this afternoon at 2 pm PT and it can be watched on MLB Network, ESPN2 and MLB.com.


Congratulations, Garrett!


Go Bruins!!!
---
Thanks again for supporting The Mighty Bruin. Your paid subscriptions make this site possible. Questions, comments, story ideas, angry missives and more can be sent to joe@themightybruin.com, or to @TheMightyBruin on Twitter.